In an ongoing effort to provide an additional in-depth technical knowledge and support to people involved in the surface preparation business, Braxton-Bragg LLC will be offering training classes on concrete grinding & polishing. The first seminar will take place on november 19-20, 2009. This training will enhance your knowledge and understanding of the entire concrete polishing process.
This 2-day course, taught by experts from Superabrasive, covers:
-Understanding the overall concrete grinding and polishing process
-Selecting the right tooling, equipment and chemicals for the job
-In-depth explanation of the surface preparation and the concrete polishing processes
-Preparing competitive marketing and bidding proposals
The fee includes:
-All training materials
-Demonstrations and a full day of hands-on training
-Lunches and two nights lodging. Discounted dining will also be available for attendees
The location: Braxton-Bragg LLC, 4100 Appalachian Way, Knoxville, TN.
The cost: $470 per person.
Purchasing a complete set of floor polishing equipment from Braxton-Bragg will not only provide you with a new business, it will allow you a total refund of the cost of one attendee to the seminar.
For more information about this seminar you can contact Kurt Alexander at 800-575-4401, ext. 235, or 865-293-0235.
Braxton-Bragg offers a full range of fabrication tooling and installation accessories including sinks, installation hardware, and every tool and piece of equipment needed to run a professional stone and tile shop. For more information about Braxton-Bragg, contact them toll-free at 800-575-4401, or visit their website www.braxton-bragg.com for a complete listing of floor care, polishing and restoration products.
Braxton-Bragg will be offering training classes on Concrete Grinding & Polishing, November 19-20, 2009, taught by experts from Superabrasive.
To view the complete PDF of the story, click here...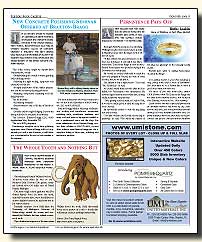 ")
Contents Slippery Rock Gazette © 2010, JDS Publishing, all right reserved.