A golf course groundskeeper in Saranac, Michigan, recently stumbled onto something unexpected on the greens: a tooth from a 10,000-year-old wooly mammoth.
Groundskeeper Patrick Walker found the 10-pound tooth when he was on the Morrison Lake Country Club greens, which are located about 30 miles east of Grand Rapids, Michigan.
The recent high school graduate told The Grand Rapids Press he knew the tooth, exposed by recent rains, was a fossil from an extinct elephant because he paid attention in his science classes.
Research assistant Scott Beld from the University of Michigan's Museum of Paleontology visited the course and confirmed that Walker's find was indeed a mammoth tooth.
Upon further investigation of the area where Walker found the tooth, Beld discovered bones and a portion of a tusk -- fossils that will remain in place pending further study.
Source: The Grand Rapids Press, http://www.mlive.com/grpress
To view the complete PDF of the story, click here...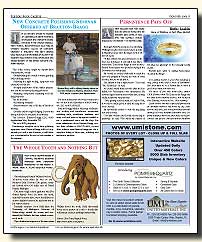 ")
Contents Slippery Rock Gazette © 2010, JDS Publishing, all right reserved.