When an industry is in its infancy, innovation brings excitement and interest. When an industry matures, innovation often slows down. What has this recession done to innovation in the stone industry?
The good news is that innovation may have slowed down but it has not stopped. The Hercules Sink Harness is a mechanical sink fastener that will sell for about $5 and provide a secure mechanical installation faster than any other product on the market. Like the EZ-Bracket (dishwasher bracket), the surprise innovation of last year, the sink harness is a simple, low-cost way to solve a very real problem. Like the EZ-Bracket, Braxton-Bragg is giving samples away free - just call.
Financial pressure has a way of forging innovative products. Expensive tools that require large volume to justify their purchase are often re-invented as less expensive, lower volume, less automated machines. We are hopeful that before the year is over, several new products will be introduced that will address the new economics of the industry.
Because of innovations on the web, new products will be introduced as soon as they become available. Waiting for a new catalog or trade show is the old way. Web technology is the new. Inventors can now find out very quickly if their product is a hit or a miss.
In addition to innovation in terms of tools and supplies, innovation in terms of applications will also continue. The use of natural stone in showers has generated innovation in the category of waterproofing materials. Thin-Veneer natural stone and polished concrete finishes expand the share of wallet that our customers can potentially claim.
Contractors that were driven to solve every day problems have developed several products in the industry. If you have a product that you think solves problems, now may be the best time to develop it. If the task of bringing a product to market seems daunting, call your distributor, he may be able to help you.
Innovation may be just the thing that helps to bring about recovery.
Thanks for reading,
Rich Hassert
Email responses to: publisher@slipperyrockgazette.net
To view the complete PDF of the story, click here...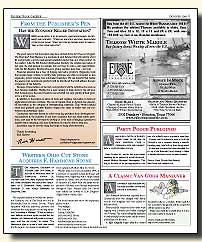 ")
Contents Slippery Rock Gazette © 2010, JDS Publishing, all right reserved.