A man with a tattoo of Britney Spears' name on his arm or neck allegedly stole a Chihuahua with pink earrings from a South Florida gay bar.
Brian Dortort, 48, said he has spent weeks searching for his precious 4-month-old pooch, named Hudson Hayward Hemingway. The dog, at the time of the pet-napping about the size of a softball, was in a specialty carry bag.
Dortort said he allowed a man to hold the Chihuahua for a moment during a friend's birthday party, then both of them disappeared.
Police said a suspect has been identified, but it's up to the Broward State Attorney's Office to decide whether to issue an arrest warrant.
Source: South Florida Sun-Sentinel, http://www.sun-sentinel.com
To view the complete PDF of the story, click here...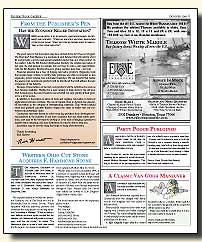 ")
Contents Slippery Rock Gazette © 2010, JDS Publishing, all right reserved.