Tom Milligan, President of Western Ohio Cut Stone, is pleased to announce that on Wednesday, August 19, Western Ohio Cut Stone acquired the natural stone quarrying and processing operations of F. Hammond Stone, owned by Franklin D. and Marie Hammond of Bellevue, Ohio.
The acquired operations include two production locations, one in Flat Rock and one in Bloomville, both in Seneca County. "These operations will add personnel, products and customers that complement our existing operation," according to Milligan. "While we are in a very difficult economic cycle, we feel that the addition of F. Hammond will position our company well for the future," he added. The Hammonds plan to continue with their sawed stone operation, Northern Ohio Cut Stone.
Western Ohio Cut Stone, founded in 1995, is a producer of quarried natural landscape and building stone, beginning with a single quarry operation in Sidney. Since that time it has added an operation in Ludlow Falls and distributes the products of Natural Stone Veneers International throughout Ohio. Western Ohio Cut Stone's main offices are located at 1130 DingmanSlagle Road in Sidney, Ohio.
For more information about the acquisition, please contact:

Tom Milligan
P.O. Box 419
Sidney, OH 45365
(937) 492-4722 Phone
(937) 492-4758 Fax
tom@westernohiocutstone.com
www.westernohiocutstone.com
To view the complete PDF of the story, click here...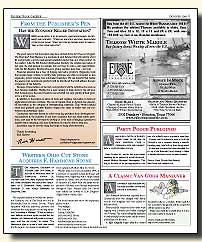 ")
Contents Slippery Rock Gazette © 2010, JDS Publishing, all right reserved.