A southeast Missouri man was accused of biting off the ear lobe of a love rival.
The Southeast Missourian reported that a 23-year-old man was charged with felony assault and burglary and was jailed on $50,000 bond.
Police said the suspect and the victim were arguing over a woman just before midnight one Tuesday. The suspect allegedly displayed a butcher knife, but the victim and the woman pushed him out the door.
A fight allegedly began after the suspect knocked loudly at a window. Police said the two men fell to the ground and the suspect bit off the victim's ear lobe.
Police recovered the severed lobe, but doctors were unable to reattach it.
Source:Southeast Missourian, http://www.semissourian.com
To view the complete PDF of the story, click here...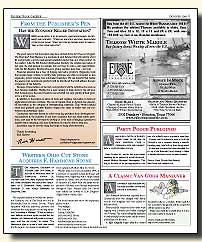 ")
Contents Slippery Rock Gazette © 2010, JDS Publishing, all right reserved.