Ah, yes, another boring day in Stoneville for this ole detective. Lately it seems that I keep getting the same old problems.
It's either someone has a stain or a cracked tile. I had several reports to write so I sat down at my desk and set up the Smith Corona, placed a blank page in the roller and started typing. I typed about one sentence and was relieved to finally hear the phone ring.
"Hello, Stone Detective, here."
"Hello, Mr. Stone Detective. I was stuffing a large turkey the other day in my sink and I heard a funny sound and it looks like the sink is separated from the granite top," the lady on the other end told me. I asked her how large the turkey was and almost asked her if she had any leftovers. She said it was a 26 lb. turkey and when she put it in the sink to stuff it, the sink made this clunking sound.
I told her I could come take a look. Thank goodness I had an excuse not to write those reports. The ole woody was in the shop, again, so I rented a cheap economy car. Boy, these things are a piece of junk, but it's all I had to get around for a day or two.
On the drive over, I couldn't help but think of that commercial where the lady is stuffing a large turkey and she drops in on the floor. It's so heavy she has to bend down and heave it in the sink. When she does, she misses the sink and it goes flying out the window and hits her husband who is mowing the lawn in the back of the head. Funny how easy I am to make laugh.
I arrived at this large mansion and rang the button so she could open the gate to the house. I was so embarrassed pulling up with this little roller skate of a car and parking it next to the Rolls Royce. As I got out of my rented clown car, she opened the door and said, "Come on in."
She was an older lady with long, gray hair. She slowly lead me to the kitchen and pointed to the rim of the sink. I ran my hand over the rim and noticed it had dropped about a 1/4 of an inch.
I said, "I will have to take a look at the anchors under the sink," and then remembered I forgot my flashlight. So, I asked if could borrow one. She reached in the draw next to fridge, and, I kid you not, pulled out a gold plated flashlight with her initials on it.
I said, "Nice flashlight," and then noticed that almost everything in the kitchen had initials on it, including the utensils and a dish that was sitting on the counter. Guess she wanted to make sure if someone stole her stuff she could ID it.
I turned the flashlight on, opened the door and looked under the sink. To my surprise, there were no sink anchors at all. The sink was only siliconed in. This was one large sink, too. I told her that she would need to have anchors installed and that the fabricator should not have installed a cast iron sink with just silicone.
As I was closing the door, I also noted that the lamination on the countertop was really bad. It was rough and the color was way off. I debated if I should tell her or not and decided to just leave it alone for now. I told her to call the fabricator and I would write a report for her (oh no, not another report). It's amazing how many of these poor installs that are out there, but I guess that's why I have a job.
She called me back a few days later sounding very worried. "I took your advice and called the fabricator back," she said, "but I think the phone has been disconnected or something. I can't seem to get in touch with anyone."
Things like this have happened before but I felt I needed to reassure her. "It's quite possible that he may have gone out of business, and judging from the shabby job, I'm not surprised."
"What do I do now?" she asked.
I calmed her down and gave her a referral to a reputable fabricator, a member of the SFA.
The Stone Detective is a fictional character created by Fred Hueston, written to be entertaining and educational. Frederick M. Hueston is a worldwide expert on stone installation, failures, fabrication and restoration. He heads up the leading stone inspection team in the industry at Stone Forensics (www.stoneforensics.com) and is the chief technical director for StonePRO Solutions. Please visit www.stoneforensics.com www.stoneprosolutions.com and www.stoneandtilepros.com for more information on their services.
To view the complete PDF of the story, click here...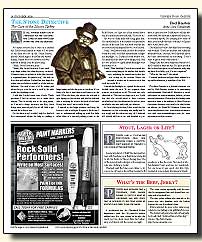 ")
Contents Slippery Rock Gazette © 2010, JDS Publishing, all right reserved.