Police have revealed that a Cleveland, Ohio barber became so upset by what he considered bad beef jerky that he returned to the store where he bought it and tried to rob the owner.
A spokesman for the Cleveland Police department said the 28-year-old barber walked into the store where he bought the snack, just two doors down from his barbershop, and tried to rob the owner one night.
The store owner reportedly told the man that he recognized him and chased him outside with a baseball bat.
The first police officer who arrived on the scene was also familiar with the barber because he cuts the officer's hair.
Police arrested the man a few miles away, where he was hiding at his girlfriend's house.
The barber told police the stick of beef jerky he bought had "sickened him and his dog."
Source: The Plain Dealer, http://www.cleveland.com
To view the complete PDF of the story, click here...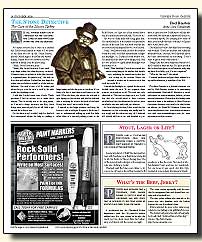 ")
Contents Slippery Rock Gazette © 2010, JDS Publishing, all right reserved.