Once in a while a simple idea inspires a great invention.
The new Hercules Universal Sink Harness is a wonderful example of this. Produced exclusively for Braxton-Bragg, it can reduce undermount sink installation to minutes. Since there's no need for temporary bracing to hold caulk or adhesive while it dries, it also means there's no costly return visit, saving the installer time and money. Instead of fastening directly to expensive stone countertops, the Universal Sink Harness Kit fastens to the cabinet itself, so the weight is supported by the cabinet instead of by the weakest part of the countertop: the sink cutout. This system will work with any undermount sink shape-single or double bowl, cast iron, steel or ceramic-so there's no need to stock more than one type of installation product. The installer can even use the Universal Sink Harness to repair other failed sink installations, making him very popular with contractors and customers alike.
Rich Hassert, CEO of Braxton-Bragg LLC, says, "This is going to be one of the hot new products of 2010. It will revolutionize the industry and probably make all other methods obsolete. We are selling it for less than $5 and the competitive products are about $30. I have seen a sink installation done with this product and it only took five minutes."
So, along with the convenience and versatility of this product, it only costs $4.95.
Sounds too good to be true? To sweeten the deal even further, Braxton-Bragg is offering to send one complete kit for free. Contact a Braxton-Bragg sales representative for more information. Check out the Universal Sink Harness demo at their new website, and see how easy it is to use.
Braxton-Bragg offers a full range of fabrication tooling and installation accessories including sinks, installation hardware, and every tool and piece of equipment needed to run a professional stone and tile shop. For more information call Braxton-Bragg toll-free at 800-575-4401 or visit their new website www.braxton-bragg.com
To view the complete PDF of the story, click here...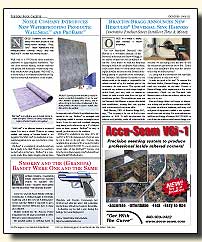 ")
Contents Slippery Rock Gazette © 2010, JDS Publishing, all right reserved.