A retired Pomona, California police sergeant has pleaded guilty to robbing two banks - holdups that earned him the nickname "The Grandpa Bandit."
Sixty-two-year-old Frank Holder of Phelan entered pleas to federal charges in Riverside, California and is free on bond. A federal prosecutor said that Holder is expected to get a three-year sentence. He'll also have to repay about $4,000.
Holder worked for the Pomona Police Department for 30 years and retired in 2004. He had no prior criminal record.
He pleaded guilty to robbing banks in Glendora and Rancho Cucamonga last October and after his arrest told authorities that he'd also robbed two banks in Escondido.
Authorities say he had a gun during the holdups but never displayed it.
Source: Inland Valley Daily Bulletin, http://www.dailybulletin.com
To view the complete PDF of the story, click here...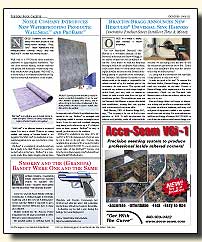 ")
Contents Slippery Rock Gazette © 2010, JDS Publishing, all right reserved.