Braxton-Bragg has supported other philanthropic organizations in the past, and once again has come to the aid of a worthy endeavor, located in Sweetwater, Texas.
The Senior Nutrition Activities Program (SNAP) is currently expanding their services to the Sweetwater community by building and staffing a Woodworking and Craft Center in their facility. This will eventually be available to young people, such as Boy's and Girl's Clubs, and will allow interaction and training by senior citizens.
Mark Rawlings, of Swago Custom Cabinets in Sweetwater, has been leading this project, along with others, and is very passionate about his work. "Our community, the Windmill Capitol of the World, constructed wind farms, with many windmills installed." These wind farms, comprising the second largest wind energy source in the U.S., had a major impact on lessening the amount of standard energy consumption and giving the town a new marketable industry, which improved the economy in the area. "These windmill construction companies then pulled out, leaving an ever-growing population of elderly behind."
The concept behind this project is simple: the older people of Sweetwater need a place where they can not only renew an old acquaintance with skills from their past, but also teach young people the skills they have achieved and learn new ones, using them to aid those who need help. "They will be prepared to fix wheelchair ramps, change light fixtures, patch drywall, and do other light repair jobs for those who cannot afford the help, or are not able to do the work themselves."
The goal is to be able to bring in young people's groups, and pass this knowledge on. "It will help keep them off the streets," quips Rawlings. This is a worthy undertaking. There is so much skill, knowledge, and wisdom harvested over the years by the elderly, which rarely gets to be imparted to future generations. Here is an ideal chance to see this happen.
There will be more types of crafts available in the future to the seniors at SNAP, including leatherworking. Rawlings is currently working to get Tandy involved in donating materials and tools to the Center. "(Working at the Center) will also be a great way to help keep seniors busy, give them something to do to keep them both mentally and physically active." Besides these classes and activities, SNAP provides daily meals to the elderly, both onsite and delivered.
Bill Hickey, of BraxtonBragg LLC, was approached with a needs list by Rawlings. "We were happy to help these good people," said Hickey. The supplies sent by BraxtonBragg, which include everything from stirring sticks to bucket dollies, will help outfit the workshop and get the venture started; however, this is just the beginning for SNAP.
The seniors at the center benefit. The youth learning from them benefit. And the elderly community receiving their help benefit. It's a win/win/win situation.
To send donations or help, please contact:

Tonya Challis, SNAP Director
1701 Elm St., PO Box 450
Sweetwater, TX 79556
Phone: 325-236-6344


To view the complete PDF of the story, click here...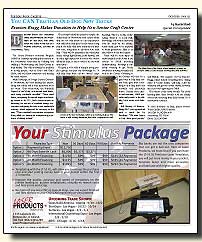 ")
Contents Slippery Rock Gazette © 2010, JDS Publishing, all right reserved.