Police said a suspicious package at a shipping store turned out to be a box of live boa constrictors.
Fairfield Township police said they were called after FedEx Office employees saw two pillowcases moving when they got curious and opened the parcel at a store about 20miles north of Cincinnati.
Officer Justen McDade said he looked in one pillowcase, saw a snake and quickly tied the pillowcase closed. A reptile rescue group was contacted and took custody of the snakes.
A local man was listed on the shipping label, and the package was addressed to a man in Phoenix, Arizona. He's been told he may not get the snakes.
McDade said authorities are trying to verify if the sender had a license for shipping snakes. No charges have been filed.
Source: The JournalNews of Hamilton
To view the complete PDF of the story, click here...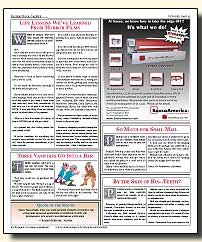 ")
Contents Slippery Rock Gazette © 2010, JDS Publishing, all right reserved.