Police report a Connecticut man has been arrested because he showed up at a dental office naked.
Police say 41-year-old Christopher Hoff, of Stratford, Connecticut showed up five days late for a scheduled appointment.
Authorities say Hoff entered Optimus Dental's office with nothing on. A startled female receptionist screamed, and he ran away.
Officers went to his home, and Hoff told them he had been sleeping all day. Police took Hoff to the dental office, where the receptionist identified him.
Hoff was charged with disorderly conduct, public indecency and failure to comply with fingerprinting.
He did not immediately return a telephone message left at his home. It's unclear if he has an attorney to answer the indecency charges.
Source: Connecticut Post, www.connpost.com
To view the complete PDF of the story, click here...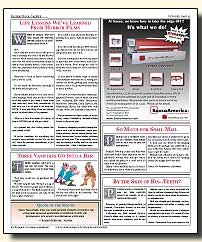 ")
Contents Slippery Rock Gazette © 2010, JDS Publishing, all right reserved.