United Materials, Inc. is pleased to announce the launch of Pompeii Quartz, a new, proprietary line of natural quartz surfacing for the countertop fabrication industry.
Natural quartz countertops are well known for strength and durability, consistent color and easy care. Highly stain-resistant, Pompeii is also heat, chemical and scratch resistant. Made of over 90% natural quartz with a mixture of resins and colors, Pompeii Quartz has the durability of granite in a more clean and contemporary color palette. The 21 colors of Pompeii's Earth Tone Collection include pure whites, sandy beiges, sunny golds, rich browns and deep blacks, satisfying the preferences of most end users. All colors are available in full slab size (55 x 118) or Pompeii's innovative half slab program (27.5 x 118).
As a natural stone importer and wholesaler, adding quartz surfacing to United Materials' stone and tile inventory rounds out its product line. "It is our view natural quartz surfaces complement the variety of granite, marble, onyx, travertine and other stones in our more than 5,000 slab inventory. Pairing a pure and simple Pompeii Quartz with a striking granite creates a beautiful statement," notes UMI president Donato Di Norcia.
With the launch of Pompeii Quartz, United Materials offers generous distributor support, a 15 year limited warranty, along with a full selection of marketing and sales materials. A slick countertop sample display, full size color brochure, sample boxes, portable sample binder, labeled loose samples and promotional items will help kick-start sales opportunities.
Based in Naples, Florida, United Materials offers distribution of Pompeii Quartz throughout south, southwest, central and northeastern Florida.
For complete information on Pompeii Quartz go to www.pompeiiquartz.com. You can access the Pompeii Quartz inventory and photos online at www.umistone.com.
For more information on Untied materials, contact Kevin Cronin at info@umistone.com or call 239-593-6995, fax 239-593-6996.
To view the complete PDF of the story, click here...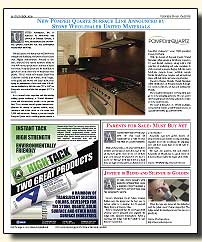 ")
Contents Slippery Rock Gazette © 2010, JDS Publishing, all right reserved.