A Connecticut man put his parents up for sale on Craigslist as a joke to pass the time on a rainy weekend.
Michael Amatrudo, a 51-year-old Madison resident and insurance executive, says in the ad that he's gotten "lots of use out of these guys over the past 50 years, but it's time to move on." He says he'll take $155 or a trade for a younger set of parents, an Erector set or a "hot blonde."
Amatrudo says he's gotten dozens of responses from around the country, including inquiries about who would pay the shipping cost and how many days it would take to receive them.
He says his parents, Ed and Arlene Amatrudo of Noank, have a good sense of humor and have taken the bogus ad in stride.
Source: WVIT-TV, http://www.nbc30.com
To view the complete PDF of the story, click here...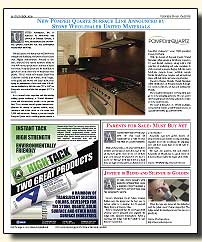 ")
Contents Slippery Rock Gazette © 2010, JDS Publishing, all right reserved.