A South Carolina woman has won a $2 million jury verdict against a dental clinic that mistakenly pulled 13 teeth.
The State reported that 28-year-old Elizabeth Smith wanted three teeth pulled when she went to the Sexton Dental Clinic in Florence in 2006. Her lawsuit said a dentist at the clinic pulled all 16 of her upper teeth.
State court records in Florence indicate the jury returned the award in late August.
One of Smith's lawyers, Robert Ransom, said the woman plans to have restorative surgery as soon as possible. That's estimated to cost about $80,000.
Clinic attorney Saunders Bridges said he is considering an appeal.
Source: The State, http://www.thestate.com
To view the complete PDF of the story, click here...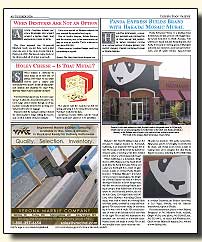 ")
Contents Slippery Rock Gazette © 2010, JDS Publishing, all right reserved.