Swiss Cheese is supposed to have holes in it, not bits of metal. But what to do when you've lost a spring and you're pretty sure it's in one of the expensive cheeses you planned to sell? Why, trundle them over to airport security.
The Bern-Belp Airport near the Swiss capital says it allowed a local cheesemaker to run seven large cheese wheels through an X-ray machine normally reserved for spotting contraband and bombs in luggage.
Failure to find the spring would have forced the cheesemaker to forgo selling the loaves, each worth hundreds of francs (dollars).
The airport said the machine spotted the spring, allowing it to be extracted and saving Tuesday's work for the farm.
Spokesman Daniel Steffen said the "small cheese producer" asked not to be identified.
To view the complete PDF of the story, click here...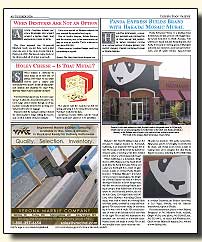 ")
Contents Slippery Rock Gazette © 2010, JDS Publishing, all right reserved.