Few things can be more neighborly than offering your kidney to a friend. Two Kansas City women have lived next door to each other for 30 years. But Claudine Jackson and Jo Ann Walz really got to know each other after Walz donated her kidney to Jackson.
The two had always been friendly, but have grown much closer over the past three years as Walz helped with car rides to dialysis treatments, doctor's appointments and the grocery store.
The kind act by Walz ended two years of waiting for Jackson on a national kidney waiting list. Jackson moved onto Fuller Avenue in south Kansas City in 1977. Walz moved in next door about a year later.
I have a great nephew who was infected by the bacteria E. Coli as an infant which later caused severe injury to his kidneys. He was on dialysis for much of his young life, although you would have never known it considering how very active he still was.
When family members (including me) decided to line up to donate an extra organ for him, luckily his Dad was a perfect match and he did not have to stay on the organ doner list for very long. He's now starting high school with plans to enter college and rarely has time to look back.
That's why it's so good to hear stories of friends like these who understand what it means to sacrifice a piece of yourself, literally, for someone whom you care an awful lot about.
If you've ever been in a situation where you or someone you know has to wait on a list for something as precious as a heart, kidney or lung, you are also aware of how many people on those lists can die each month, while waiting.
Perhaps life has a much greater savor when you're given a real second chance. So, kudos to these friends who discovered one more reason to be a good neighbor and live life to the fullest while you may.
To view the complete PDF of the story, click here...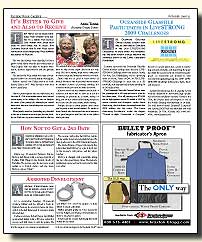 ")
Contents Slippery Rock Gazette © 2010, JDS Publishing, all right reserved.