The Oceanside Glasstile Cancer Kickers cycling team will be sponsored by Laticrete in the 2009 Livestrong Challenges to raise funds and awareness for the fight against cancer through the signature event of the Lance Armstrong Foundation.
Laticrete sponsored the Oceanside Glasstile Cancer Kickers cycling team for four LIVESTRONG Challenge events this year in Seattle, San Jose, CA, Philadelphia, and an upcoming event in Austin, Texas on Oct. 24. The LIVESTRONG Challenge in each city is a 5K run/walk, with experienced cyclists traveling 70 or 100 mile routes.
The Oceanside Glasstile Cancer Kickers team has participated in all national events over the last three years, 13 in all, raising over $70,000 for the fight against cancer. Founded in 1997 by cancer survivor and champion cyclist Lance Armstrong, the foundation has raised more than $250 million for the cause. The Lance Armstrong Foundation, under the slogan: "United to fight. Committed to Conquer," focuses on cancer prevention, access to screening and care, research, and improving the quality of life for cancer survivors. Interested participants or volunteers are invited to visit www.livestrongchallenge.org for 2009 LIVESTRONG Challenge information, dates, times and locations.
Laticrete International, Inc. is a family owned business dedicated to innovative, high quality tile and stone installation systems. Based in the USA, the 50-plus year old company is one of the world's leading manufacturers in its field. It's well known brands Laticrete, Latapoxy and SpectraLOCK are manufactured and sold worldwide. In USA /Canada call 1-800-2434788, www.laticrete.com
To view the complete PDF of the story, click here...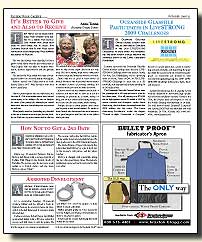 ")
Contents Slippery Rock Gazette © 2010, JDS Publishing, all right reserved.