Police in Michigan say a couple's first date went from bad to worse when a detroit man skipped out on the restaurant bill, then stole his date's car.
Police say 23-year-old Terrance Dejuan McCoy had dinner with a woman April 24 at Buffalo Wild Wings in the Detroit suburb of Ferndale. The woman says the two met a week earlier at a Detroit casino and she knew McCoy only as "Chris."
The woman told police that McCoy said he left his wallet in her car and asked for keys. He then sped away in the 2000 Chevrolet Impala.
The Daily Tribune of Royal Oak reports that police identified McCoy by a photo he'd sent to the woman's cell phone, and his phone number.
McCoy is charged with unlawfully taking the car, a five-year felony crime. He waived a preliminary exam and was bound over for trial soon after.
To view the complete PDF of the story, click here...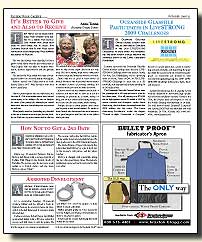 ")
Contents Slippery Rock Gazette © 2010, JDS Publishing, all right reserved.