MyGlassTruck.com announces the addition of new standard features and optional equipment to their aluminum Value-Line of glass carriers that will reduce breakage by improving how glass is secured and transported. The new standard features include:
The glass industry's first offering of integrated vertical rubber padding that runs all the way from the top to bottom of the carrier's frame posts. This innovative feature protects smaller pieces of glass by supporting edges that extend above or below the carrier's horizontal padding. MyGlassTruck.com is the only manufacturer offering this feature which gives their carriers the most padding per glass-transport-surface in the industry.
Computer designed load-bearing under-body mounts provide a very stable connection between the carrier and the vehicle's chassis to maintain a flat, rigid surface that supports glass during transport. This feature ensures proper weight distribution and provides added protection against bumps and vibration to the vehicle, carrier and glass.
Aircraft-grade Huck locking mechanical fasteners secure all load bearing connections between the carrier's 1/8-inch thick extruded 6061 T6 aluminum posts and slats. Mechanical fasteners are a superior method of joining aluminum because they are not affected by vibration and don't compromise the surrounding material. Welding aluminum can create a "heataffected zone" that makes the material around the weld brittle and more prone to cracking under stress and vibration. Conventional nuts, bolts and screws require continual maintenance because they tend to loosen over time.
Each carrier now features three T6-Adjust-APoles per side as standard equipment. This new generation of glass holding pole offers superior performance through: Full adjustability-standard black triangle cleats can be easily moved forward, backward, and to any location up or down the pole. Strength-a proprietary T6 aluminum extrusion with an integrated T-channel provides strength and structural support to resist bending and bowing for uniform glass-holdingpressure along the pole's entire length. Ease-ofservice-the top and bottom section of each pole are secured with bolts and can be easily removed for field servicing.
A self-assembly carrier kit for vans, pick-ups or sprinters can now be ordered and delivered world-wide. Carriers from MyGlassTruck.com have recently been shipped to clients as far away as Australia.
MyGlassTruck.com has also added an optional roof rack mounting system that enables an aluminum carrier to be installed without drilling holes in the vehicle's body and integrates the roof rack and carrier into a more uniform system.
A new optional fold-down glass cutting table with height-adjustable legs that lock into place offers a sturdy and level work surface at the job site. The large table top is mounted onto a heavy-duty aluminum frame for strength and can be covered with the glazier's choice of padding. During transport or when not in use, the table folds upright and is held securely in place with locking pins.
Rustin Cassway, President of MyGlass Truck.com, comments on their spirit of continuous improvement by saying, "We try to understand our customer's challenges and provide solutions. The vertical rubber padding came about because we knew many glaziers were having difficulty with smaller pieces of glass. We added vertical pads along the posts to support the edges of glass that ride between the horizontal pads. Our customers really appreciate this feature because it protects against breakage and makes loading glass quicker and easier."
MyGlassTruck.com displayed their aluminum glass carrier's new features at booth #1111 during GlassBuild America 2009 at the Georgia World Congress Center in Atlanta, GA from September 30th to October 2nd. More information about the show may be found at: http://www.glassbuildamerica.com/about.htm.
Interested parties can find out more about the company's selection of glass carriers for vans, pick-ups, sprinters and trucks at www.myglasstruck.com. A company representative may be reached via e-mail at sales@myglasstruck.com or by phone at 1-800254-3643.


To view the complete PDF of the story, click here...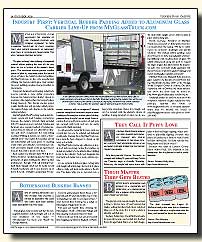 ")
Contents Slippery Rock Gazette © 2010, JDS Publishing, all right reserved.