A central Pennsylvania woman has been charged with fatally stabbing her live-in boyfriend of five years during a dispute that reportedly began as an argument over her feeding the dog before serving him dinner.
Fifty-five-year-old Pamela Poorman is charged with killing 51-year-old Larry Coletti one Thursday night in Annville Township. Police say the couple had come home with takeout food and began arguing, which escalated to physically fighting. Poorman told police she picked up a knife to scare Coletti and then stabbed him. She later said she was being beaten and "had to stop it."
Poorman was taken to Lebanon County Prison without bail. She indicated at her arraignment that she planned to seek a public defender.
Source: Lebanon Daily News, http://www.ldnews.com
To view the complete PDF of the story, click here...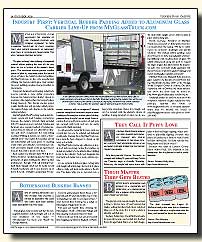 ")
Contents Slippery Rock Gazette © 2010, JDS Publishing, all right reserved.