A city in central England says two buskers who plagued a suburb by repeating the same two songs have been banned from performing for two years.
Birmingham City Council said that the men angered residents with late-night and out of tune renditions of two tracks -"Wonderwall" by Oasis and "Faith" by George Michael.
Acoustic guitar player James Ryan, a 40year-old, and 39-year-old Andrew Cave -who used garbage can lids to accompany Ryan -were banned from busking by a judge at Birmingham Magistrates' Court.
The pair are barred from entering the Birmingham suburb of Moseley Village and from playing musical instruments there.
The council says both men are also banned from begging anywhere in England or Wales.
To view the complete PDF of the story, click here...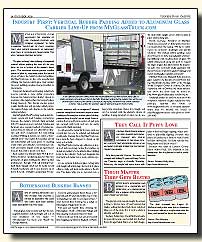 ")
Contents Slippery Rock Gazette © 2010, JDS Publishing, all right reserved.