Baton Rouge authorities had footage of a shoplifter but little else, as a search began for a woman with apparently very strong leg muscles.
The grocery store camera caught the woman putting a 24-can case of beer between her thighs, pulling her dress back down and shuffling out of the store. But it took a while to identify and find her.
Zachary Police Capt. David McDavid said a 42-year-old woman was booked into the East Baton Rouge Parish Prison on a theft charge.
The theft occurred last August 22. McDavid said police were able to determine the woman's identity a couple weeks after the heist, and tracked her down that afternoon.
Source: The Advocate, http://www.2theadvocate.com
To view the complete PDF of the story, click here...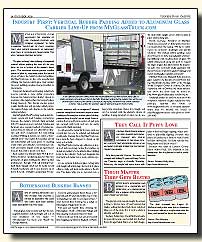 ")
Contents Slippery Rock Gazette © 2010, JDS Publishing, all right reserved.