A public official wearing a mask attacked his fiance inside their Connecticut home only four days before their wedding, throwing a blanket over her, hitting her with a baseball bat and running out the back door, police said.
Keith Maynard, an Ansonia town alderman who has since resigned, was arraigned in Superior Court and released on $50,000 bail. When asked by reporters about his actions as he left the hearing, he declined to comment on his strange behavior.
Maynard has been charged with seconddegree assault, first-degree unlawful restraint and first-degree reckless endangerment.
Police say the woman, now Maynard's wife, came home July 1st to find a masked man inside the house. She was treated for minor abrasions after the attack.
"I love my husband more than anything and to know that five days later was my wedding, and he could do that, and still go through with the wedding. I was very surprised," Ida Maynard told reporters outside the courthouse.
The judge ordered Maynard to stay away from the house so Ida Maynard can live there. He was also ordered to turn over any firearms, though his lawyer, John Kelly, said he did not believe Maynard had any.
I understand that marriage is a big step and can cause some stress. I have been in enough weddings to know that it takes months to plan and usually generates some high anxiety.
Some couples choose the high (and expensive) solution of hiring a wedding planner to take care of all those stressful details. Others have old-fashioned, pre-marital parties to ease some tension. Mr. Maynard decided to wear a mask and hit his betrothed with a baseball bat.
Maybe it's just me, but I would expect his new bride to have a stronger reaction than "surprise" at his actions, perhaps even to have some teensy reservations. But, then again, maybe that's why I'm not married...
To view the complete PDF of the story, click here...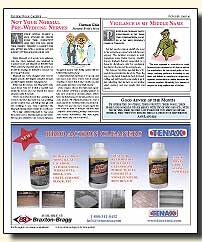 ")
Contents Slippery Rock Gazette © 2010, JDS Publishing, all right reserved.