People are generally pretty well-behaved in the small town of Elizabethton, located in the hilly Northeast corner of Tennessee.
Just last month, a deputy sheriff who went to the wrong house came back with his man anyway. The incident occurred in midSeptember when Carter County Sheriff's Deputy Richard Barnett responded to a domestic disturbance call, but mistakenly knocked on the door of the wrong house.
The Johnson City Press reported that a 33year-old man invited the deputy in. Then, the man put his hands behind his back for handcuffing and told Barnett he was ready to go to jail, admitting that he had an outstanding arrest warrant, and was caught fair and square.
The man appeared in court about a week later and was sentenced to 40 days in jail for his misconduct. He was found guilty of contempt, violating probation for failing to pay fines and failure to complete an anger management course from an earlier domestic disturbance incident. Hopefully, he's learned to respect the long, vigilant arm of the law.
To view the complete PDF of the story, click here...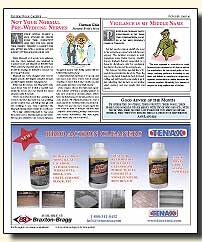 ")
Contents Slippery Rock Gazette © 2010, JDS Publishing, all right reserved.