An FDA test has revealed that either a frog or a toad was in a Florida man's soda can. The food and drug administration test confirmed that the remains of an animal were in Fred Denegri's can of Diet Pepsi.
Denegri popped the can open July 23 as he was grilling dinner outdoors in Ormond Beach, Florida.
A Pepsi spokesman said the company is aware of the FDA testing and stands by its manufacturing process. The can was traced back to a plant in Orlando, which runs about 1,250 cans a minute on the production line. The spokesman says the speed of the production lines and the rigor of its quality control make it virtually impossible for a frog or toad to get into a can.
Denegri said he is certain the animal was in the can before he opened it.
"It has been verified, and it was indeed a frog," Charles Watson, a spokesman at the US food inspection authority, told AFP from Florida, noting that the animal had been identified by an FDA lab. Fred DeNegri of Ormond Beach, Florida told CNN television that he was taken aback by the "disgusting blob" he was not expecting in his drink. DeNegri purchased the soda at a Sam's Club wholesale grocer, CNN said.
To view the complete PDF of the story, click here...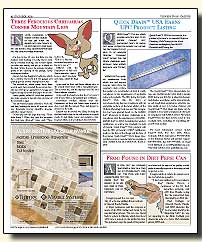 ")
Contents Slippery Rock Gazette © 2010, JDS Publishing, all right reserved.