Laticrete, a global leader in the manufacturing of innovative installation and finishing systems for the construction industry, has launched another industry first with the introduction of free ebook downloads for the complete series of www.laticrete.com/manuals .
The Laticrete Technical Design Manuals also hit eBook stores online and are formatted to be compatible with virtually any eReader device including the iBooks® app from Apple®, the Amazon Kindle™ and the NOOK™ from Barnes & Noble.
Developed by technical experts at Laticrete as another free service to benefit the industry at-large, the series of Laticrete Technical Design Manuals in eBook formats offers a fast, easy way to reference and store complete specification details for installing tile and stone in a number of uniquely challenging settings. The Laticrete Tiled Steam Room and Steam Shower Technical Design Manual was the first eBook to launch as the recognized global innovator continues to roll out the series for all eReader devices in the coming months.
Laticrete International, Inc. is a familyowned business dedicated to innovative, high quality tile and stone installation systems. Based in the USA, the 50-plus year old company is one of the world's leading manufacturers in its field. Its well-known brands Laticrete®, Latapoxy® and SpectraLOCK® are manufactured and sold worldwide. In the USA or Canada call 1-800-243-4788, outside USA +1203-393-0010, www.laticrete.com .
The eBook format Laticrete Technical Design Manuals were developed as a free service to benefit the industry at-large.
To view the complete PDF of the story, click here...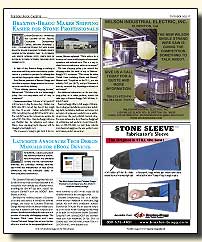 ")
Contents Slippery Rock Gazette © 2011, JDS Publishing, all right reserved.