Using a winding and rippling textured surface to create the feeling of gently flowing water, Bellavita Tile Inc's new Creekside Glass series brings the natural ambiance of the outdoors into interior designs.
This rustic-meets-chic modular series delivers the look and feel of an authentic creek side, creating subtle variation and nuanced hues for exceptional and distinctive spaces.
The unique texture makes each tile translucent, not transparent, allowing light to breach the surface of the glass and return warm, diffused light back into the room. These tiles are especially ideal for any type wall or backsplash, as they manipulate and take advantage of an interior's natural and artificial light.
Eight colors and 2 style formats make the Creekside Series a designer's dream for a rich but understated, soothing neutral space. Its cool, contemporary color palette evokes its namesake: dappled glen, dusk shadows, natural earth, river sand, shimmering ice, tumbled pebbles and washed slate. The Creekside Series is available in 2" x 6" and 3" x 1" sizes.
About Bellavita Tile
Bellavita Tile offers an amazing array of glass, metal, ceramic and porcelain mosaic tiles at price points that are consumer-friendly. The company provides a full range of residential and commercial glazed and unglazed porcelain tiles.
All of the products are produced in China using the most state-of-the-art technologies and innovative designs developed in Europe. If you want more Bellavita Tile information, email info@bellavitatile.com or visit the web at www.bellavitatile.com .
Pictured 3x1 inch Bellavita Creekside Tile portrays Washed Slate and Tumbled Pebbles
To view the complete PDF of the story, click here...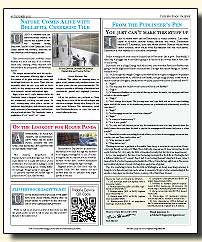 ")
Contents Slippery Rock Gazette © 2011, JDS Publishing, all right reserved.