Authorities in Flagstaff, Arizona, are assuring residents there are no rogue pandas roaming the city after some pranksters got creative with an electronic street sign.
The Arizona Department of Transportation-controlled sign was set up to warn drivers not to make left turns at a busy intersection. But motorists heading to work one Monday morning got an entirely different message: "Rogue panda on rampage."
A passer-by reported the hacked sign to police at about 3 a.m. that Monday.
Transportation Department spokeswoman Mackenzie Nuno says the sign was restored to its original message by 11 a.m. She says the agency has no suspects, but she noted the hackers would have needed specialized equipment to change the sign's message.
Flagstaff police Lt. Ken Koch tells the Arizona Daily Sun that citizens can rest assured there are no problems with rogue pandas in the city.
To view the complete PDF of the story, click here...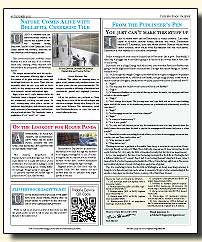 ")
Contents Slippery Rock Gazette © 2011, JDS Publishing, all right reserved.