A Bend, Oregon, veterinarian has performed lifesaving CPR on an injured bald eagle that was under anesthesia during physical therapy.
KTVZ-TV reports Jeff Cooney performed the therapy, during which the bald eagle nicknamed "Patriot" stopped breathing. Cooney's "mouth to beak" resuscitation got the eagle breathing again.
The injured eagle was found by two La Pine women near Crane Prairie Reservoir in June. The eagle had suffered, among other injuries, a dislocated shoulder and paralyzed right leg.
Cooney says it's uncertain whether he will be able to return the bird to the wild. If the bird's foot doesn't improve in the next three weeks, Cooney says he could be forced to euthanize him.
Source: KTVZ-TV, http:// www.ktvz.com /
To view the complete PDF of the story, click here...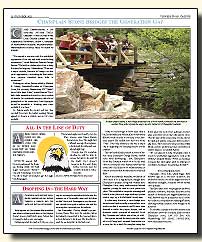 ")
Contents Slippery Rock Gazette © 2011, JDS Publishing, all right reserved.