A New York man says he phoned in a bomb threat to try to get power turned back on at his grandmother's house.
Nassau County police say Raijiv Pandey called a TV station and threatened to place a bomb at a Long Island Power Authority facility. Investigators searched more than 30 locations but did not find a bomb.
In an interview published in the Daily News, Pandey says he made the call and conceded the consequences could ruin his life. He is charged with falsely reporting an incident.
The Central Islip (EYE'-slip) resident says he was frustrated. He says his grandmother "was dying of heat" and her food had spoiled.
Her power was restored six days after Tropical Storm Irene barreled through.
Growing up in Tropical conditions, hurricanes and tropical storms were practically a way of life. You had to prepare for one or the other almost every year.
Since this procedure was drilled into you so often, making precautions for power failure was also routine. Weeks before a system was forecast to hit, we would stock up on or dust off our portable gas stoves, lanterns and battery-powered lighting equipment.
Families typically had more than one cooler, which would get filled with ice to keep perishable food safe as long as possible, but non-perishable foods were always the preferable items to store.
We would fill tubs with water before-hand, to help with brushing teeth, taking sponge baths, and flushing toilets if pipes were to stop working. Gallons of spring water were stored up for drinking and cooking.
To pass time, we would play cards or board games and take turns fanning each other. Hopefully, power and normalcy would be restored within hours, but sometimes it would take days.
In areas like the East Coast that may not be as used to making emergency storm preparations, it's understandable that there would be some frustration over slow, overextended power crews. Unexpected natural disasters are stressful enough by themselves, but they also bring out the best and worst in people forced to live in dangerous, uncomfortable conditions; some turn out to be heros, and some react unpredictably, rashly, and dangerously, carried away by the situation.
By calling in a bomb threat to the utilities plant, Mr. Pandey didn't get the power turned on any quicker-in fact, it delayed emergency crews. Threatening retribution may have satisfied his urge to "help" his suffering grandmother, but that's the method of a terrorist, not a hero.
To view the complete PDF of the story, click here...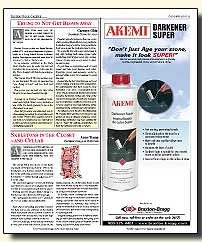 ")
Contents Slippery Rock Gazette © 2011, JDS Publishing, all right reserved.