Multicam Inc. Promotes
Tony McGrew to Operations Manager
Multicam® Inc., a global CNC cutting system manufacturer, promoted Tony McGrew to operations manager. A hands-on team player since 1995, he oversees all departments involved in machine design, production, operation and support.
McGrew earned a bachelor's degree in civil engineering at Oregon State University. Since joining the MultiCam Technical Support Department 16 years ago, he has held several management positions. He has been technical support manager, quality control manager, engineering manager and most recently, director of technical services and engineering.
"Tony is a key visionary in growing MultiCam to the next level," said President and General Manager Kris Hanchette. "He brings a new focus on production efficiencies and lean manufacturing. Well-respected by customers, vendors and employees, he possesses excellent problem-solving and team-building skills. We are confident in both his vision for the business and his ability to achieve it."
McGrew's vast CNC industry knowledge includes a stint as a MultiCam customer. As owner/operator of an Oregon CNC job shop, he used a MultiCam Router. McGrew was a key contributor in developing the MultiCam machine user interface. He has installed, serviced and sold platforms in most U.S. states and around the world.
Thanks to his extensive international experience and worldly view, McGrew offers insight into customer needs and industry requirements for MultiCam's large-scale export business.
About MultiCam
Since 1989, MultiCam Inc. has manufactured thousands of CNC (computer numerical control) cutting solutions for various industries around the world. The innovative company integrates advanced technology and value in highly productive systems that are easy to use and built to last. MultiCam manufactures CNC router, laser, plasma, waterjet and knife cutting machines at its 135,000-square-foot facility in North Texas. The global network of experts includes 70 MultiCam Technology Centers worldwide with 20 across North America. To learn more about MultiCam's CNC cutting solutions, visit www.multicam.com or call 972-929-4070.
MULTICAM® Inc., a global CNC cutting system manufacturer, has promoted Tony McGrew to Operations Manager for its North Texas facility.
To view the complete PDF of the story, click here...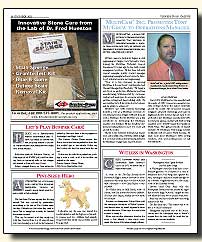 ")
Contents Slippery Rock Gazette © 2011, JDS Publishing, all right reserved.