A man who apparently died and remained in the narrow, brick chimney of a Louisiana bank for 27 years will be laid to rest at a weekend funeral.
Decades after Robert Schexnider (SHEKS'ny-dur) last saw his brother Joseph, he will gather with other relatives for the funeral. Joseph Schexnider's skeletal remains were found in May in the chimney of a bank in the small town of Abbeville.
Robert Schexnider says the funeral should provide closure for the family.Yet the mystery surrounding his brother's death lingers. How did he end up in the bank's brick chimney? Was it a robbery attempt gone awry, an accident or a sinister way for someone to get rid of him?
All police can say with certainty is that Schexnider became snared in the chimney and apparently died there in 1984.
Contrary to common belief, chimneys were never designed to accommodate the entering or exiting of people. They are very narrow and may sometimes even curve.
The chimney was originally designed to use pressure difference caused by a hot column of gas to create a draft, drawing air over hot coals or wood, enabling continued combustion. Flues began to be made narrower to create a better draft.
Back in the United Kingdom, small boys from workhouses as young as four were used to sweep chimneys, climbing through hot flues that could be as narrow as 9 inches, often resulting in them getting jammed, suffocating or burning to death.
There were so may deaths that Acts of Parliament were passed to restrict their use, and in 1875 it was eventually stopped. However, in America, African-American children were still used well into the 1900s.
Most chimney sweeps today are trained, certified professionals. The standard chimney brush is still used, along with more modern tools (such as vacuums, cameras and special chimney cleaning tools), although most sweeps are done from the bottom of the chimney, rather than the top, to prevent the dispersion of dust and debris.
So despite the cheerful legends of St. Nick, entering a building through the chimney for any reason is simply dangerous; this was never the intended purpose. It's unfortunate that some have to learn that the hard way.
To view the complete PDF of the story, click here...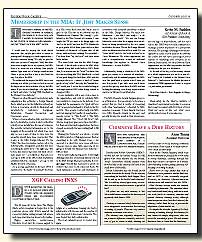 ")
Contents Slippery Rock Gazette © 2011, JDS Publishing, all right reserved.