By the time that you read this, the election will be over and we will know if this was a referendum of Obama policies or if once again mid-term elections were local in focus. We will also know if the next two years will be full-speed ahead on the President's agenda or if the Republicans in Congress will be able to block his agenda.
We will also have a glimmer of the next decade as redistricting, gerrymandering and all of the usual shenanigans play out in statehouses across the country. Perhaps we also will know if the Tea Party influenced or actually took over the agenda of the Republican Party.
I suspect we won't have general agreement regarding the helpfulness or harmfulness of massive government spending, nor will we have clear reporting regarding how misguided government policies can cause a "capital strike." For those who have not heard the phrase "capital strike," it means that those who control capital, i.e. investors, do not feel confident enough to invest-so they don't. I believe that the term was first used in the 1930s. I have heard it used frequently in the last two years. As I have talked to bankers, investors and other business people, the story that I have heard over and over again is that people do not feel confident enough to invest. The investor argument is that if you want to create new jobs, you need to invest in new activities: no investment, no jobs. With unemployment hovering around 10%, it seems to me that the new congress should consider this.
News outlets report "consumer confidence" numbers each month and usually report that we have a consumer economy and stress the importance of how consumers are feeling. What is less frequently mentioned is "investment confidence." Let's hope that the outcome of the election improves the confidence of both consumers and investors and that 2011 will prove to be the start of a great recovery.
Thanks for reading,
Email responses to: publisher@slipperyrockgazette.net
To view the complete PDF of the story, click here...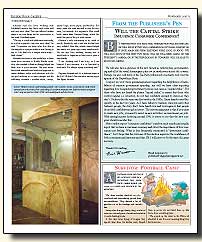 ")
Contents Slippery Rock Gazette © 2010, JDS Publishing, all right reserved.