The Marble Institute of America (MIA) is pleased to announce the release of a new fifty-three page report that provides a handy reference to world stone production statistics by country for a variety of natural stones (i.e. granite, marble, etc.). This report prepared by Basics/Mines can be downloaded from the Association's online bookstore.
Authored by Harold A. Taylor, president of Basics/Mines, this report showcases production and demand by type of stone, import and export statistics, and includes a variety of graphs. Taylor adds that, "Stone production data is available from a variety of sources, but obtaining the information can be a time consuming project. We have made it easy with this new compendium available from the MIA bookstore." MIA members can download the full report for just $24.90 (non-members for $29.90). The table of contents can also be accessed online for review purposes.
This report focuses on several key stone production areas including the United States, Mexico, Brazil, Italy, Spain, Turkey, China, and India.
According to the report, Italy and Spain dominated the production of dimension stone prior to 1990-95. Since then, peers of those producers have expanded their operations and markets. Additionally, the residential use of dimension stone has greatly expanded in North America, Japan, Korea, and China. The U.S. continues to be a driving force in a growing stone market: imports were $65.8 million in 1927 and $2.54 billion by 2007.
For more information on this report, go online to www.store.marble-institute.com (click on reference materials/studies) or contact the MIA at miainfo@marble-institute.com .
About the Marble Institute
For over 65 years the Marble Institute of America (MIA) has been the world's leading information resource and advocate for the natural dimension stone industry. MIA members include marble, granite, limestone, sandstone, and other natural stone producers and quarriers, fabricators, installers, distributors, and contractors around the world.
To view the complete PDF of the story, click here...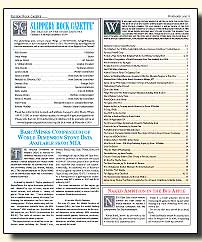 ")
Contents Slippery Rock Gazette © 2010, JDS Publishing, all right reserved.