Braxton-bragg announces the release of a new bridge saw blade utilizing "cutting edge" technology. Talon™ Array 26mm Silent Core Bridge Saw Blades are made with the largest segments yet offered by the industry. These blades are designed to cut granite and other hard stones better for longer, saving the fabricator time and money.
Talon™ Array Blades will cut granite smoothly and with minimal chipping, providing a consistent cut. Having a smooth starting point after your material is taken from the bridge saw means less steps to achieve your goal.
Cutting Edge Array Technology mean that the diamonds used on the Talon™ Array Blade are evenly spaced to provide the same quality cut from the first use of the blade to the last use. The cutting speed of this Talon™ blade is equal to any blade on the market; Braxton-Bragg guarantees 100% that this blade will meet all cutting expectations. This new blade sets the standard for diamond bridge saw blades. Combining the newest cutting-edge Array technology with super-sized segments has resulted in a blade that cuts even the hardest stone without causing the fabricator's saw to draw increased amps.
A professional fabricator who tested this blade on a Park Industries Fusion Saw/WaterJet said that it performed just as well as a bridge saw blade costing more, and would be willing to buy it. Steve Bussell, Product Manager for Braxton-Bragg, said, "We got great results on quality of cuts and length of use when we tested the Talon™ Array, but when the guy on the job says he likes it, that means more than any tests we could make."
For additional information on the Talon™ Array 26mm Silent Core Bridge Saw Blade, contact the sales reps at Braxton-Bragg. Call toll free, 1-800-575-4401. The Talon™ Array Bridge Saw Blade is sold exclusively by Braxton-Bragg, in sizes from 12 to 20 inches.
Braxton-Bragg offers a full range of fabrication tooling and installation accessories including sinks, installation hardware, and every tool and piece of equipment needed to run a professional stone, decorative concrete and tile shop. For more information about Braxton-Bragg and its publications and products, contact them tollfree at 800-575-4401 or visit their website at www.braxton-bragg.com for a complete list of classes, specials and publications.
To view the complete PDF of the story, click here...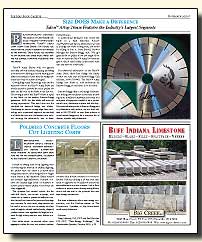 ")
Contents Slippery Rock Gazette © 2010, JDS Publishing, all right reserved.