For the first time in the history of the shows, SURFACES and StonExpo/Marmomacc Americas will offer their education programs free of charge, with the cost of exhibits admission.
"With the economy still in full recoverymode, we understand that attending industry trade shows, though beneficial for networking and growing your business, can be a difficult sell due to the limited budgets businesses are working with right now," states Dana Teague, Director, SURFACES | StonExpo/Marmomacc Americas. "We hope that by offering our education program to registered attendees at no additional expense provides an added value and makes the trip out to Las Vegas more worthwhile."
The SURFACES and StonExpo/Marmomacc Americas 2011 Education program are registered with AIA/CES, ASID, AIBD, IDEC, IICRC, IIDA, and NKBA. Attendees not only receive valuable knowledge and insight into the floor covering and stone industries, but they will also receive the continuing education credits required to maintain their status with their respective professional organizations. The education program, with approximately 75 different workshop, seminar and mini session options, has been carefully developed to cover a wide array of the most relevant topics in the floor covering and stone industries.
Attendee registration for both shows is now open. Visit SURFACES at www.Surfaces.com and StonExpo/Marmomacc Americas at www.StonExpo.com or follow them on Twitter at #SURFACES and and@StonExpo .
Beginning this year, SURFACES and StonExpo/Marmomacc Americas will co-locate bringing floor covering and natural stone together creating one of the largest residential and commercial construction-related industry events nationwide. SURFACES and StonExpo/ Marmomacc Americas will take place January 25-27 (Tuesday-Thursday) at the Mandalay Bay Convention Center, Las Vegas, Nevada.
The official sponsor of SURFACES is the World Floor Covering Association (WFCA), the floor covering industry's largest advocacy organization representing floor covering retailers, contractors and allied service providers throughout North America.
The WFCA is a recognized leader in marketing research, industry certification programs, and operates the premier consumer flooring web site, www.wfca.org , providing unbiased information about every type of floor covering and connecting customers to members' retail stores. The WFCA also influences public policy affecting the floor covering industry and consumers. For more information about the WFCA, visit www.wfca-pro.org .
StonExpo/Marmomacc Americas' Official Sponsors are the Marble Institute of America (MIA) and Natural Stone Council. The mission of the MIA is to promote the use of natural stone and be the world's most authoritative natural stone information resource.
Membership in the association is worldwide and includes over 1,750 natural stone producers, exporters/importers, distributors/wholesalers, fabricators, finishers, installers, and industry suppliers-all committed to the highest standards of workmanship and ethics.
The Natural Stone Council, home of the Genuine Stone brand, is the leader in the stone industry that represents the major associations who are committed to promotion and education of the industry and general public of the value and benefits of natural stone. Member associations include: Allied Stone Industries, Building Stone Institute, Elberton Granite Association, Indiana Limestone Institute, Marble Institute of America, National Building Granite Quarries Association, National Slate Association, Natural Stone Alliance, New York State Bluestone Association and Pennsylvania Bluestone Association.
About Veronafiere
Veronafiere (Verona Trade Fair Company) is Italy's most important direct organizer of trade shows and among the top organizers in Europe. Founded in 1898, Veronafiere now focuses on economic sectors of primary importance to the Italian economy, including stone (Marmomacc), construction (Samoter), and wine (Vinitaly). Veronafiere conducts or hosts 37 trade shows a year in Verona and 11 abroad. Annual turnover in 2008 was more than $115 million.
Marmomacc is the global leader in natural and engineered stone materials and related technologies and design. Samoter is one of Europe's major exhibitions of construction equipment and earth-moving machinery. Vinitaly is the largest wine trade show in the world. All three are owned and organized by Veronafiere.
About Hanley Wood
Hanley Wood is comprised of four platforms: Business Media, which publishes more than 30 magazines, featuring Builder, Remodeling and Architect magazine, along with related Web sites, e-newsletters, and conferences; Exhibitions, which produces marquee events such as World of Concrete, bringing residential and commercial construction professionals face-to-face with manufacturers, suppliers, distributors, and service providers, and also manages events in other industries; Market Intelligence, which collects and aggregates proprietary data sets that capture hundreds of pieces of profile and material information about housing developments in more than 75 housing markets; and Marketing, which plans, creates, and executes strategic and integrated marketing solutions for its clients. For more information visit www.hanleywood.com
To view the complete PDF of the story, click here...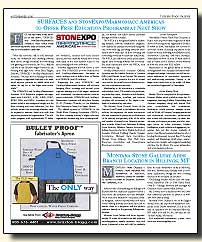 ")
Contents Slippery Rock Gazette © 2010, JDS Publishing, all right reserved.