Montana Stone Gallery, a natural stone importer and distributor of Missoula, Montana, opened an additional branch location in Billings, Montana this September, 2010.
After months of researching the Billings and Eastern Montana market an apparent need of a local stone slab facilitator has been identified. Visits with stone fabrication companies, interior designers, cabinet manufactures and many other building industry associates have led to inform there is a desperate call for product selection directly in the growing Billings market area.
Montana Stone Gallery will house approximately 50 colors of natural stone slab products including granite, marble, travertine, onyx, and more. Additional colors will still be available from the main distribution center in Missoula, Montana. Products are popularly used as countertop applications, though the stone sourcing abilities of the company are limitless.
The Billings location will be open and operational September 27th at 2760 Gabel Road, Suite B - Billings, Montana and managed by Corporate Sales Director Mike Dunbar.
Mr. Dunbar can be reached at 406-241-2866 with additional questions in advance or 406-294-7866 after opening.
Montana Stone Gallery is one of the largest natural stone slab import and distribution companies in the Inland Northwest. It is in its 5th year of operations out the corporate Missoula, MT office and will be the 3rd year for the Spokane Valley, WA branch.
For additional information please visit www.montanastonegallery.com
To view the complete PDF of the story, click here...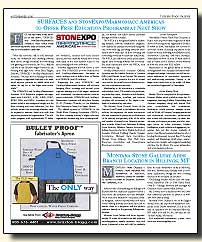 ")
Contents Slippery Rock Gazette © 2010, JDS Publishing, all right reserved.