Ray St. Gelais, owner of TWD Surfaces in Bridgewater, Massachusetts, has been building a wholesale countertop fabrication business since 1985.
Originally a novelty furniture shop, TWD Surfaces now has 36 employees in the 30,000 square foot Bridgewater, MA facility and offers Artisan Stone Collection granite, quartz, solid surface and wood countertops.
"I am very pleased and proud to note that TWD has achieved a milestone that not many businesses reach as we enter our 26th year," says St. Gelais. "I think that the combination of expanding our product offerings and having great customers is our secret to success in a changing market."
TWD began business in 1984 making custom kitchen cabinets and has since advanced to being a well-established, wholesale custom countertop manufacturer for commercial and residential markets. Though their products and services have changed over the years, St. Gelais believes TWD owes the company's success to its customers.
"I wish to express my heartfelt thanks to all our loyal customers for putting their trust in our company," adds Gelais. The company is a member of the Artisan Group, owning its own brand of granite-Artisan Stone Collection, offering a lifetime warranty, even on workmanship. Other countertops include Saratoga Soapstone, solid surfaces and wood countertops.
About Artisan Group™
Artisan Group is the premier network of stone fabricators in North America. All Artisan Group members have achieved, or have begun the process to achieve full accreditation with the Marble Institute of America. The group is among the first granite fabricators in the world to be working towards this distinction. The Artisan Group's extensive network allows the organization to offer the world's best granite from the best sources around the globe. Utilizing the most technically advanced, automated shops in the industry, highly skilled craftsmen ensure that each and every installation meets exacting standards. From classic to exotic, it offers the most extensive array of color choices in the industry, and with short lead times and competitive pricing, Artisan Group granite countertops are closer than one might expect. For more information, visit www.artisan-counters.com .
About TWD Surfaces
TWD Surfaces is a wholesale fabricator of premium custom countertops for the commercial surfaces and residential markets. From Craft-Art wood, Artisan Stone Collection Granite, DuPont Corian, to our green countertop portfolio, we are your one-stop source for all countertop products. Recent TWD projects include: Dulles Airport (Sterling, VA), Boston Logan Airport, Rhode Island Hospital, Rhode Island College and Massachusetts General Hospital.
Ray St. Gelais (far left), owner of TWD Surfaces and the office staff pose around the TWD logo, celebrating the Massachusetts company's silver anniversary. TWD has been serving the New England region for 25 years fabricating premium custom countertops for commercial and residential markets.
To view the complete PDF of the story, click here...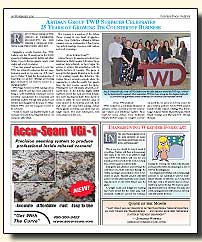 ")
Contents Slippery Rock Gazette © 2010, JDS Publishing, all right reserved.