Prosecutors in washington state said a woman stabbed a man in the back with a steak knife after he teasingly told her she had smelly feet.
Snohomish County deputy prosecutor Janice Albert said a 19-year-old man was teasing Dallas Amber Smith, 18, of Monroe, after she failed to complete a back flip off a deck at a Sept. 7 party, The Daily Herald, Everett, Wash., reported.
Albert wrote in court papers filed that Smith playfully wrestled with the man and attempted to rub her socks in his face until he pushed her off after a few seconds.
The papers said Smith soon prepared to leave the party and stabbed the man in the back with a steak knife on her way out.
The man, who suffered a punctured lung, is expected to recover, authorities said.
Smith was arrested at her parents' home and charged with second-degree assault with a deadly weapon. She was released after posting $50,000 bail.
A $250,000 warrant was issued for Smith's arrest after she told a detective she was planning to visit Australia for several months, but the warrant was rescinded when she surrendered her passport to police.
Source: United Press International, http:// www.upi.com /
To view the complete PDF of the story, click here...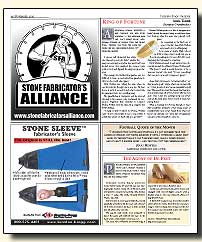 ")
Contents Slippery Rock Gazette © 2010, JDS Publishing, all right reserved.