Kevin M. Padden
I recently spent some quality time with a client company, helping them get started in the business. Little did I know that their "introduction" into our industry would be a baptism by fire for my clients-with spectacular results.
My original agreement with my client was for me to spend four days doing basic countertop training, and an additional two to five days helping them plan their shop layout and setting up an easy-to-use operational flow plan to assist them be more efficient with fewer personnel. This would be a "long haul" contract, which would allow lots of time for covering any and all topics in our industry.
This all changed when I arrived at their regional airport, and was asked if I could help them in fabricating their first two kitchen contracts. Our training schedule went out the window in a heart-beat, and we went to a new battle plan: surprisingly, pretty much following my "Basic Countertop Training" program that we had originally discussed, but kicked up to fullspeed.
The task at hand was to fabricate two complete kitchens, along with secondary lav tops for each project. The objective was to take a start up shop from "zero-to-sixty" in an instant, and produce two viable, complete "getting paid to do this" countertop projects in nine consecutive days. This included unpacking tools and equipment, setting up a Blue Ripper Saw, an Edgewise Diamond sawing & CNC system, an Accu-Seam VGi-1 and immediately putting them all into operational functionality with no time for a learning curve.
The projects were not overly complex for me, but for my clients, who had never held a grinder in their hands, they amounted to building one of the Egyptian Great Pyramids. There was really no option to postpone either of the jobs; in my opinion, they both could be completed with my participation (basically acting as the "Production Manager/Head Fabricator/Lead Templator/Lead Installer/Chief Cook & Bottle Washer/Hero of the Day").
We were, after all, going to be working with prefabricated granite countertop blanks of varying sizes, and one of the kitchens had been precut in China according to dimensions taken from the plans (OK, I know what you're thinking right now: pre-cut-according to plans-this rarely, ever comes out good in the end). The other project was going to take a half-dozen blanks of varying heights and lengths, but by and large, this was going to be doable. And it was doable, but not without some great "learning opportunities."
One of the first learning opportunities was evident right from the start: we were going to be using a kitchen countertop pre-cut for a Jshaped layout. I knew that we'd probably have to work some miracles for this very first project to come out nice and tight, and sure enough, I was right. This first learning opportunity taught my clients that when preparing a project that will require complex angles and shapes, templating the project is always preferable to "just measuring;" walls are never straight and plumb, cabinets are never level and true, and stone is never perfect.
In a kitchen that was comprised of four pieces- one being a 36 wide by 110 long peninsula-all four pieces had to have major reworking to fit in place as they were originally planned. This proves my point: plans and buildings change. Cabinets get modified, walls get modified, and appliances get changed. There are a whole ton of variables that you can't predict until you're actually fabricating the piece that goes into a particular setting. Templates-of the actual object you're fabricating, either analogue or digital -are always better for accuracy every time.
The other lesson that my client learned (and I was reminded of) was the importance of "micing" your slabs, especially if they are being used in a prefabricated form.
My client is in a geographical market area that requires that they import all kind of products that they sell in their general store in their hometown. Importing cabinets and now, prefabbed granite countertops, is a natural move for them to make, and immediately they have a backlog of customers that have already bought their countertops that need customized-in advance of my client's shop being operational.
They have started their countertop business by importing four colors of 3cm pre-fabbed countertop blanks, and the presumption was that all of the material is gauged and consistent with industry standards. After inspecting most of the material, I was very impressed with the quality and consistency in polish, so I never gave it a second thought to pull out my "mic" (micrometer) to check the thicknesses randomly from piece to piece. This would prove to be an opportunity that I should have taken, and just double checked to make sure.
The way I realized my error: just prior to packing up the pieces to take out for installation of the second project, I found a difference (from one piece to another) of 1/8 of an inch. This would be noticeable at the seam lines where two different thicknesses of stone would not be a great testimony to pride in workmanship, so, fortunately, we were able to rectify the situation and proceed with the install and establish another happy customer for my client.
The point of this second "learning experience" was, as President Ronald Regan used to say: "Trust, but verify." I had grown complacent with what I thought was a consistency in quality. Back at my shop this morning, I pulled out my micrometer and put it in a place where I'd see it and thus use it on every job in the future-without fail.
In the end, the cavalry (me) came to the rescue. The two first jobs that my client did, with my coaching, turned out perfect. They have seven more condo projects to do now, based on what they learned while I was with them for those nine days of their initiation into our community. They're still in "learning mode," but they'll make it in my opinion, because they have the skill sets, the desire, the market that's crying for what they are offering, and the ability to "think outside the box" and adapt to changing market desires and trends.
I left my client with the knowledge that they need to succeed, and took with me the satisfaction that I had helped bring another fabricator into the business: kind of like being a doctor that delivers another baby into this world. Their learning moments will still come, but they have survived their initial "Baptism By Fire." Now it's up to them to make it--and I'm sure they will.
Until Next Month... Best Regards & Happy Fabricating!
"Education on Location" at Fabrication Shops around the world is a service that is provided by AZ School of Rock.
For more information, please visit the website at www.azschoolofrock.com , or contact Kevin M. Padden by phone at 480-309-9422 or by e-mail at info@azschoolofrock.com
To view the complete PDF of the story, click here...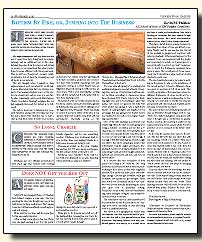 ")
Contents Slippery Rock Gazette © 2010, JDS Publishing, all right reserved.