Charlie the smoking chimpanzee has died. Qondile Khedama, a spokesman for the central South African city of Bloemfontein where Charlie had been a fixture at the small zoo, said the chimp died apparently of old age. Charlie was believed to be 52.
Khedama says zoo officials noticed about five years ago that visitors were tossing Charlie cigarettes, and he was mimicking smokers. Khedama says zookeepers tried to stop visitors from encouraging Charlie in a habit many humans are trying to quit.
Newspapers picked up the story. Charlie featured in a U.S. TV news report, and became the first animal visitors would ask to see.
Khedama says Charlie's body will be mounted and displayed in an area featuring other preserved, popular zoo residents.
To view the complete PDF of the story, click here...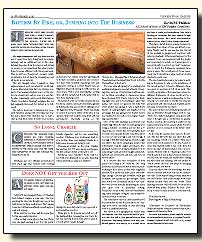 ")
Contents Slippery Rock Gazette © 2010, JDS Publishing, all right reserved.