An Arizona woman accidentally glued an eye shut when she mistook super glue for her eye drops.
KSAZ-TV said Irmgard Holm of Glendale had cataract surgery a year ago. She was reaching for what she thought was one of her half-dozen eye drop medications. The burning sensation told her immediately something was seriously wrong.
Holm said the eye drops and the super glue bottles are nearly identical.
After putting super glue in her eye, Holm says she tried washing it out. But the quickdrying substance did what it was supposed to and sealed her eye shut.
Holm got to the hospital and staff cut off the hardened glue covering her eye. Once the eye was opened, doctors were able to wash it out and prevent major damage.
To view the complete PDF of the story, click here...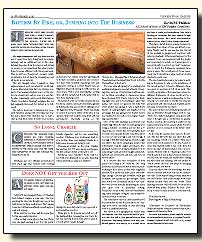 ")
Contents Slippery Rock Gazette © 2010, JDS Publishing, all right reserved.