Between the cream puffs and everything you can get on a stick, food at the Wisconsin State Fair is a dish best served over the top. Ladies and gentlemen, meet one of the year's favorite foods: the Krispy Kreme Cheeseburger.
Sold at the Machine Shed tent at the fair, the $5 burger features the normal patty and melted cheese, but with a Krispy Kreme doughnut for a bun. For an extra dollar, patrons can top the burger with last year's big hit: chocolate-covered bacon on a stick (furthering the debate on whether the new dish is dinner or dessert).
The calorie count: 1,000, according to Nathan Morrissey, executive chef at the Machine Shed. What's the burger's appeal?
"Well, let's see," Dave Owens of Appleton, Wisconsin, said at the fair's opening day. "It's a doughnut with chocolate-covered bacon and a cheeseburger put together. How could you go wrong?"
Owens' nephew, 9-year-old Harrison Smith, also of Appleton, had a bite of his uncle's burger and had to have one for himself.
"It's really good," he said.
Todd Whittaker of Fond du Lac, Wisconsin, came to the State Fair with his wife, Dawn, and their 16-month-old daughter, Bren. They were interested in trying the new burger after seeing a similar product on an episode of the Travel Channel show "Man vs. Food."
Dawn Whittaker was the first to take a bite.
"It's good! It's different," she said. "Kind of a little salty and sweet all at once."
Some at the fair tried the Krispy Kreme burger after stumbling on it by accident. Dan Hypki of South Milwaukee bought one, he said, "because it's just odd."
But some had the burger in their sights as soon as they hit the fairgrounds.
"It's amazing!" said Brooke Brueser of Muskego, Wis., after her first bite of the burger. She came to the fair with her brother-in-law, James Stefanovich of West Allis, Wisconsin. Stefanovich agreed.
"Oh my God, forget about it," he said. "That's insane! I thought it was going to be really gross, but it's amazing."
While the people trying the burger at the fair seemed to thoroughly enjoy the treat, for some, it's just a State Fair thing.
"Once a year is fine, but more than that--I'd be in the hospital five out of seven days a week!" Stefanovich said, laughing.
Source: www.cbsnews.com/stories
The food at most State Fairs is all about experimenting, indulging your taste buds and just having fun. A doughnut cheeseburger is a match made in heaven! Who would have thought that the two would go together so well?
I've eaten a breakfast sausage sandwiched between what could be considered pancakes, and it actually is a wonderfully authentic taste. I'd wager that most people have had pancakes and sausage links and have eaten them in the same mouthful, or had them on the same plate. It's no wonder the taste is not so unfamiliar.
However, if you're diabetic or on a caloriecounting diet, this is probably not the breakfast or lunch choice of champions. A 1,000 calorie burger consumed at one sitting can't be very good for the arteries, either.
Why is it that things that usually taste really good are rarely good for you? I suppose with anything it's always wise to take it in moderation. I'm sure too much of anything, including water and granola, could be bad for you.
One secret I learned from a dietician friend is to alternate your meals based on their nutritional value. So, if you're going to allow yourself the occasional pleasure of a calorie-busting meal, you should follow it up with healthier choices for a while, to keep your digestive system in balance, and to give your heart a break!
To view the complete PDF of the story, click here...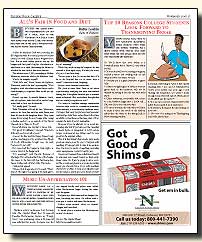 ")
Contents Slippery Rock Gazette © 2010, JDS Publishing, all right reserved.