Designer Surfaces has been selected as a member of the Artisan Group, a national organization of 36 independent countertop fabricators who have joined together to offer their own brands of premium countertops including: Artisan Stone Collection™ granite and marble and Saratoga Soapstone.
The group also offers sinks through an exclusive Kohler specialty dealer program. The Artisan Stone Collection is the first and only granite countertop with a residential limited lifetime warranty, available in Maryland through Designer Surfaces and a second member Solid Tops.
"Joining the Artisan Group is a great way for us to differentiate ourselves from our competition," says Greg Fisher, Designer Surfaces president. "Designer Surfaces is a quality driven company, which goes along with the Artisan Group's commitment to quality stone and service. As an Artisan Group member and fabricator, our customers will have the assurance they are receiving the highest quality of granite available, as well as the fabrication and installation."
Serving the Baltimore/Washington, DC, Metro area, including parts of central Pennsylvania and northern Virginia, Designer Surfaces was founded in 1990 by brothers Greg and Don Fisher. Located in Frederick, MD, Designer Surfaces began as a fabrication and installation business for Corian, but has since expanded to include other surfaces which now include the Artisan Group Products: Artisan Stone Collection, Saratoga Soapstone, Modesto Granite and Heritage Wood, as well as Firstline care products and Kohler sinks and faucets. The company currently has 85 employees and fabricates and installs 3,500 to 4,000 square feet of stone and quartz surfacing per week.
About Designer Surfaces
Designer Surfaces opened in 1990 as a Corian fabricator and installer, but now offers many stone countertops options in the Washington DC, Maryland and northern Virginia areas. The showroom is located at 5103 Pegasus Ct. Suite D, Frederick, MD 21704.
You can reach them on the web at www.designersurfacesinc.com or by calling 301-831-4443.
About Artisan Group
With 35 members and growing, Artisan Group covers most major markets in the U.S. and Canada, and it can handle a variety of fabrication needs from a local to national scale. Its members average more than 20 years of fabrication experience in the countertop industry, and all Artisan Group members have achieved, or have begun the process to achieve, full accreditation with the Marble Institute of America. The group is among the first granite fabricators in the world to be working towards this distinction. Collectively, Artisan Group surpassed $350 million in sales in 2009.
Brands of the Artisan Stone Collection include Exotic & Classic Granite, Modesto Granite (starting at $35/square foot) and Saratoga Soapstone. It also offers a marble collection as well as Heritage Wood surfacing products. Apart from countertops, the Artisan Group supplies the Firstline collection of granite care products as well as Kohler sinks and faucets through an exclusive specialty dealer program with the Kohler Company. For more information, visit www.artisan-counters.com .
Crema Bordeaux granite graces this model home kitchen for Trinity Homes of Ellicot City, Maryland. Designer Surfaces fabricated using a Northwood Sawjet. The custom cabinetry was designed by Kitchen Creations of Columbia, Maryland.
To view the complete PDF of the story, click here...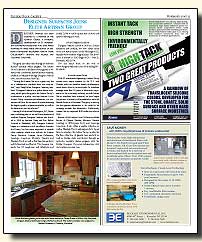 ")
Contents Slippery Rock Gazette © 2010, JDS Publishing, all right reserved.