Tenax Announces New Ager Pen for Easy Countertop Touchups

Tenax USA has introduced a new product that can be sold to fabricators for their personal use, and can also be resold by a shop to walk-in customers, or used as a promotional give away to homeowners after their install.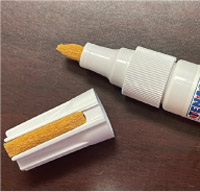 The new Ager pen contains Ager Darkener and features an easy-to-use applicator tip.
The Ager Pen, which contains the famous Ager Darkener formula, is perfect for touch ups, hiding scratches, and more. The pen works on scratches the same way Ager works, in a convenient, user-friendly applicator.
It will not remove the scratch but disguise or hide it, to make the scratch blend in and be less noticeable.
Installers and restoration pros who use SKM pens will be familiar with the pen and packaging.
Tenax has contracted an exclusive filling and packaging agreement with SKM.
According to Brian Gambrell of Tenax USA, "SKM does an outstanding job in their pens, and we couldn't think of a better partner than SKM to create this product with us."
Based on testing and feedback, Gambrell predicts the Ager pen will be a popular product both for installers and home owners.
The Ager Pen is available through Tenax distributors in a box of 6 pens. Each box includes a display pack which is perfect for counter placement in a showroom.

BBIndustriesllc.com is an authorized Tenax Distributor. Visit www.TenaxUSA.com for a complete list of distributors and more information on their range of products.