Page 26 - Feb_2020_SRG_33pg
P. 26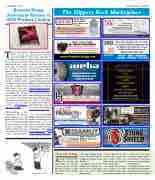 26|February 2020 Braxton-Bragg
Announces Release of 2020 Product Catalog
Slippery rock Gazette
The Slippery Rock Marketplace
     STORAGE
     FABRICATION
     TRANSPORTATION
       Built with the customer in mind, offering tremendous strength and support for every job they are needed for!
Check out the Heavy Duty Transport Rack
  www.groves.com | P: 800.991.2120 | sales@groves.com
              Viper® Venom Turbo Our Top Line of Turbo Blades!
Order a blade now and experience why great fabricators around the coun- try rely on Viper to get the job done!
Call 1-800-575-4401 or Order Online
 www.braxton-bragg.com
  The Braxton-Bragg 2020 catalog is here with hundreds of exciting new products. One of the newest product lines featured in the catalog is the Viper Venom turbo line of blades for cutting granite, quartzite and other materials. They are man- ufactured using medium frequency sintering tech- nology, a slightly differ- ent manufacturing process from the standard Viper turbo blades. This tech- nology equally distributes heat during the sintering process, producing a blade that is stable and reliable, assuring the user a clean cut every time. See it on their website: www.braxton- bragg.com/Venom .
Braxton-Bragg is also very proud to offer Superior Gold adhesives as a new product for 2020. These ad- hesives are perfectly suited for use on nearly all stone surfaces, including both natural and sintered stones and quartz, as well as solid surfaces. Superior Gold is
translucent in color, making it an ideal choice for invis- ible joints, especially for light or white colored stones. Using cutting-edge resin technology, and cured with only a one percent or two percent white paste hardener it outperforms epoxy sys- tems, setting up in only 20 minutes. There is no prod- uct on the market that can compete with Superior Gold adhesives, which truly lives up to their name. See them at www.braxton-bragg.com/ Superior_gold_adhesives .
If you did not receive a Braxton-Bragg 2020 Catalog in the mail in January, please give them a call toll-free to request one at 800-575- 4401. Meanwhile, check out all of the newest offerings at www.braxton-bragg.com.
For over 25 years Braxton- Bragg's philosophy has been to offer exceptional products and first-class service to its partners in the stone, tile and concrete industries. For more information, visit www. braxton-bragg.com and face book.com/braxtonbraggllc .
                                   www.wehausa.com info@wehausa.com 1-877-315-4761
  braxton-bragg.com 800-575-4401
See the Hercules display at TISE Booth 3745
                                                              LOWER INSTALL COSTS INCREASE PRODUCTIVITY REDUCE INJURIES
         #NoLiftSystem
Visit our website for pricing and more information
www.NoLiftSystem.com
503.212.4034 Sales@NoLiftSystem.com
 Used by 11 out of 12 fabricators of the year
       www.laserproductsus.com
See the No Lift System in action on YouTube!
    Call 800-575-4401 for Stone Shield
           Available at www.braxton-bragg.com
       CNC Tooling for Natural Stone and Dekton
www.braxton-bragg.com
    NOW AVAILABLE AT
   © MARK ANDERSON. www.andertoons.com
Since 1933... the original and most trusted seam adhesive
   AKEMI for over 80 years is your leading partner for
filler and adhesive systems based on polyester and epoxy resin. Our products are used worldwide by pro- fessionals in the stone processing industry.
www.akemi.com
   MADE IN THE USA
We produce durable, easy-to-use stone processing and handling equipment that will help the stone fabricator increase production while decreasing costs.
www.rye-corp.com
FAB KING • HUSKY • PRISM MITER RENEGADE • RYDRATOR • TILT-A-SLAB
Hook, Line & Ring
Acouple celebrated their love for each other and their fondness for a favorite outdoor goods store by hold- ing their wedding at a Bass Pro Shops store in Kodak, Tennessee.
The shop in Kodak shared photos on Facebook from the wedding of customers Lonnie and Pam.
The photos show the pair holding their wedding cere- mony next to the large aquar- ium in the store's trophy fishing section.
"Here at Bass Pro, we will sell you a boat, a gun, even some clothes. Shoot, you might as well even get married here," the post said.
The newlyweds said they met as teenagers, but only started dating recently when they reconnected on Facebook.
"I asked her out on a date 37 years ago and she told me no. It took me 37 years to get her to say yes," Lonnie Harris told WVLT-TV.
Pam Harris said she works at the Bass Pro Shops location and wanted her coworkers to be able to attend her wedding.