Know Your Minerals — Part 2
A Handy Guide to the Ingredients of Your Favorite Natural Stone
Karin Kirk

Many thanks to Slabworks of Montana and Montana Tile and Stone for allowing me to explore and photograph their beautiful stone slabs.
As I related last month, minerals are the components of all natural stones. The color of every natural stone, whether it's jet black, glittery silver, or a kaleidoscope of Technicolor – comes from the individual minerals.
Minerals also dictate the properties of a stone: Hard or soft; acid-resistant or acid-sensitive; flaky, chunky, or smooth.
As you may recall, you can only see individual minerals in coarse-grained stones. A smooth stone with small grains, like Absolute Black or Pietra Grey, doesn't reveal much about specific minerals because you can't see them. But many popular stones have big crystals in all kinds of patterns and colors, inviting curiosity about just what those minerals are all about. (One disclosure about minerals – these superpowers are not to be taken literally. Hopefully you already realized that?)

Quartz
Quartz is the second most abundant mineral on the Earth's crust. Even though it occurs in similar colors as feldspar, it has a distinctly different look.
Quartz colors include: Clear, white, grey, black, pink, amber, brown, purple. Some colors of quartz have their own name. Purple quartz is amethyst. Amber quartz is citrine. Grey quartz is smoky quartz, and so on.

Above, left: Quartz looks like glass. You can see 'into' it. It also has an irregular shape.

Above, right: Areas of white quartz in a slab of Titanium. In this case the quartz melted during metamorphism, forming fluid blobs within the rest of the stone. Geologists would call this stone a 'migmatite,' meaning 'mixed rock,' because it's part metamorphic, part igneous.
Above, left: This slab of Allure is 100%, crystalline quartz. Notice that the crystals don't have any particular shape.

Above, right: Geologists call this 'graphic granite,' because the quartz looks like ancient cuneiform writing. It's an intergrowth of feldspar (the white background mineral) and quartz (the grey bits). Once you recognize this pattern, you'll notice it on a lot of slabs. This is Alaska White.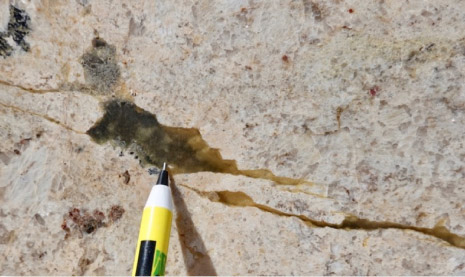 Translucent and blob shaped... you might think this is quartz. Alas, it's epoxy fill. I've been fooled by that more than once! The best way to tell an epoxy, acrylic or resin fill from quartz is by hardness. Epoxy and acrylic are easily scratched by a knife blade or nail. Also, epoxy often has a green or yellow color to it.
Identifying features:
Once again, color is no help in identifying quartz, but quartz is easy to spot once you see it a few times.
Quartz is often translucent, meaning you can see down into the crystal.

Quartz looks a lot like colored glass, because it has the same chemical composition as glass.
Unlike feldspar, quartz does not have a 'preferred' shape and it almost never breaks along a flat plane.

When looking at an igneous rock, quartz is often blob-shaped, because it's the last mineral to solidify and it fills in the gaps left open between the other minerals.
In a metamorphic rock like gneiss, schist, or a quartzite like Fusion or Marine Blue, quartz forms white blobs that are often squiggly-looking. In these cases, the quartz melted as the rock was undergoing metamorphism.

Properties:
Quartz is heralded for being beautiful, durable, inert, and generally bombproof. It's 7 on Mohs hardness scale and isn't bothered by acids or less-than-ideal cleaning habits. In fact, quartz is such a cool mineral, that a type of man-made material borrowed its name, leading to endless confusion within the countertop industry.

Examples: Quartz is prevalent in light colored granites like Alaska White or Bianco Antico. And, of course, quartz plays the starring role in quartzites like Taj Mahal, Fusion, and Sea Pearl. Quartz is also the main ingredient in Wild Sea sandstone.

Superpower: Having quartz-rich stones in your home makes you less likely to snack between meals. No one knows why.



Mica
Mica is the defining ingredient in sparkling stones like Orion and Magma Gold, and is a minor player in granite and gneiss. Mica is nature's glitter: it's shiny and forms in flat flakes. It's hard to identify mica in a polished surface, but if you look at the edge of the slab you can usually make out the trademark shape.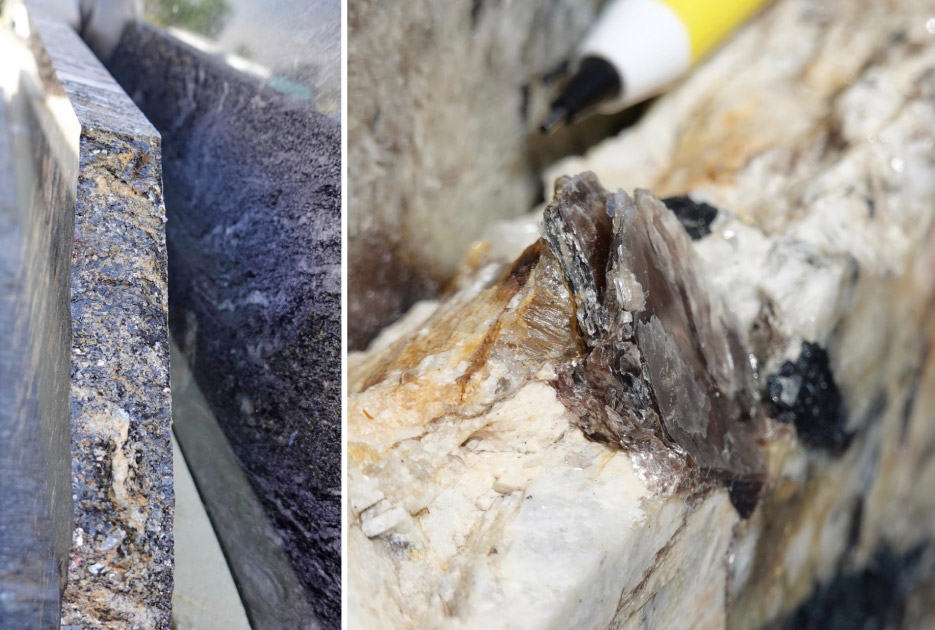 Above, left: Black mica is called muscovite, and it's seen two ways in this photo. On the edge of the slab, the flat surfaces of the flakes are visible. On the polished surface of the slab in the background, you can see thin slivers of the edges of the mica flakes. This stone is Orion.

Above, right: Silver mica is also called muscovite. The edge of the slab is the best place to spot the thin layers within the mineral. The black, blocky grains behind the mica are amphibole. The white mineral is feldspar – and you can really see the non-glossy luster of feldspar in this photo.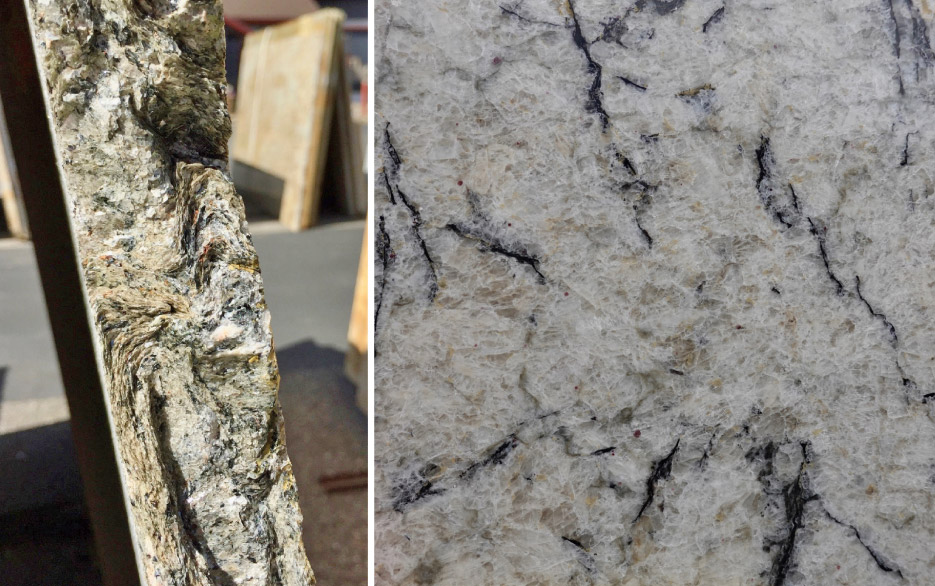 Above, left: When viewed on the edge of the slab, mica's distinctive thin sheets are easily recognizable. In this case, the layers of this schist are folded into wavy layers, which is a common theme in metamorphic rocks.

Above, right: This pretty slab of Persian Pearl is mostly quartz with thin slivers of black mica and a few garnets.

Identifying features:
When you view mica crystals end-on, you can see the very thin edges of the flakes. Sometimes these are stacked like pages in a book.

Mica sheets are pliable and you can likely bend them with your fingernail.
The mica family includes minerals of silvery white, golden, brown, and black. There is even a green mica called chlorite that gives green slate its color.

Properties:
Mica is best in small doses, because it's soft and does not conform to polishing like other minerals. Small-grained mica is ideal because you can enjoy the sparkle without having the stone flake apart. Mica is a major ingredient in schist.

Examples: Many granites and gneisses have small amounts of mica minerals. Some examples include Delicatus White, Vahalla, Rocky Mountain, or Viscount White. Schists contain larger amounts of mica, as can be seen in Desert Dream, Galaxy Schist, or Saturnia.

Superpower: Mica makes you more tolerant of your family members.


Join us next month for Part 3 of Know your Minerals and a quiz to test your mineral savvy.

Karin Kirk is a geologist and science educator with over 20 years of experience and brings a different perspective to the stone industry.
Karin is a regular contributor to usenaturalstone.com and the Slippery Rock Gazette. Contact her at karinkirk@gmail.com .