WerkMaster Training at the Hopkins County Jail
Joel Davis
Special Contributor
Photos courtesy of Deputy Donnie Barnett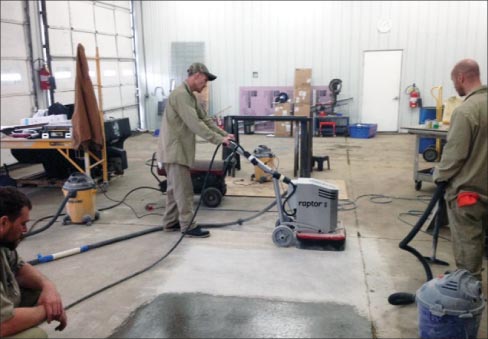 The Hopkins County jail, near Madisonville, Kentucky, may not seem to be the most obvious place for people to learn the use of WerkMaster polishing machines for their future livelihood, but that's just what inmates are doing.
Under the supervision of Sgt. Billy Thomas and Deputy Donnie Barnett, inmates in the jail's Community Service program are benefiting from training in the use of the WerkMaster Raptor XT.
"We try to pick somebody who has a skillset," Thomas said. "We are looking at construction and maintenance or welding skills. None of the guys we've had on the WerkMaster Raptor XT have any training in that area. It is all new to them like it was for me and Deputy Barnett."
The training that Barnett and Thomas offer the inmates is hands-on, like they received themselves at Braxton-Bragg. "The classroom may not be their strong point, so we're just doing hands-on instruction," Thomas said. "We will take the machine, explain how to operate it, how to test the concrete — all the particulars. Most of them learn better in that way than in a classroom setting."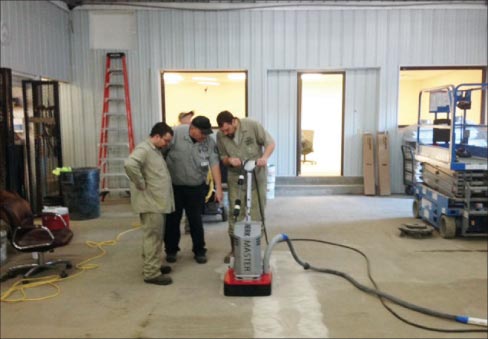 Barnett and Thomas traveled to the Braxton-Bragg offices in Knoxville for three days of WerkMaster training in February. "We thoroughly enjoyed it," Thomas said. "They put on an excellent presentation, excellent hands-on. I just enjoyed the whole experience with the exception that we thought we left all the snow in Kentucky."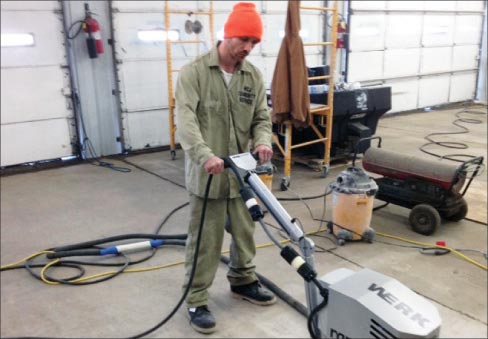 The genesis of the WerkMaster training at the Hopkins County Jail was necessity. "Our head jailer, Joe Blue, had been looking for something to try to do away with the tile we have in the jail. He got to looking at concrete grinders and polishers. He went through WerkMaster and bought a machine, and they pointed him to Braxton-Bragg for the training."
The Raptor XT is the most powerful surface prep machine in its class. It is widely used for retail and small commercial projects, serving as a grinder, stripper, sander, polisher, buffer, burnisher, polisher, and edger.
"I like the machine," Thomas said. "It's a rather intimidating thought to begin with, you worry about messing something up, but we haven't had any problems with it. We've had good results with what we've done so far. From the looks of this one, it would be hard to beat. It's quite versatile, you can do many different things with it. It's an excellent machine."
Thomas does not have a construction background. His training has been on the job. "I spent 20 years working for the Kentucky Department of Corrections in security and came here to work with a road crew. I kind of learn everything I can."
As part of his job, Thomas supervises the jail shop and three road crews. The folks in the Community Service program do a little bit of everything when it comes to maintenance and construction, he said. "They perform grounds maintenance, vehicle maintenance, and building maintenance. We have a garden — they help take care of a two-acre garden. Whatever breaks in the jail, we fix it. We also go out and do special projects for other local and county agencies. If they've got painting to do or if they need something built, we'll go out and work on that. We've got several irons in the fire."
WerkMaster training opportunities at the jail are going to be expanded, Thomas said. "We just constructed a new inmate training facility attached to our jail shop. We're going to have more training with WerkMaster with another group of inmates."
The goal is to help the inmates develop a set of skills that will make them employable once they serve their sentences and are released back into the community.
"Maybe they'll get out of that lifestyle and realize there are other ways of making a living that don't involve going to jail," Thomas said. "So far it works out pretty well. For the most part, the guys, they are just happy to be out of the cell for eight hours a day. Most of them will give you a good hard days work."
The program is gearing up to provide more training in the use of the Raptor XT. "So far, it's been six people so far, but the way we're set up, we have so many other things going on, we can't dedicate all our time to that," Thomas said. "Since we got back, we've probably had 15 different projects we've been working on."
The first job after receiving the training from Braxton-Bragg started in March when inmates worked on the floor in an area being converted into a break room at the jail. They are set to polish about 1,000 square feet of floor at a new Humane Society facility in the county, and in January, they'll take on a 2,000 square-foot project at their local fairgrounds. "They want the concrete ground and polished," Thomas said. "That ought to get us a whole lot of time and training there."
The effort to teach skills to the inmates is paying off, Thomas said. "We've had several that came back in and asked for a Deputy Barnett or myself and said 'Hey, I appreciate what you done for me. I learned a lot from you. I put it to use. I'm staying out of trouble. I'm doing good now."
Barnett is confident in the growth of the program in the future. "Once we get everything going right, it will be a great thing," he said. "I believe that we'll see it take off a whole lot over the next two years in this part of the country."
Braxton-Bragg proved to be an excellent resource for learning the ins-and-outs of the Raptor XT, Thomas said. "We're still definitely using them for the parts and tooling that we need. I've got nothing but good to say for those guys."
Braxton-Bragg's WerkMaster Training and Certification class is three days of hands-on training for those looking to gain knowledge and understanding of floor preparation and hard surface polishing techniques.
The decorative concrete training features the latest grinding and polishing techniques, equipment, tooling and chemicals. Graduates will leave knowledgeable in surface preparation, concrete grinding, polishing steps and procedures.
The next class will be held Oct. 7-9. Please note that Braxton-Bragg's classes fill up quickly. In order for everyone to have the best experience and to be able to train properly, class size is limited to about 10 attendees to give adequate time to receive one-on-one training throughout the course. For more information contact Kurt Alexander at 877-493-0205.
"It was a pretty good class," Barnett said. "It was informative, and I like the hands-on training a real lot," he said.
In the end, the training is not just about the use of the Raptor XT or learning maintenance. It is about rebuilding lives. "It's a good thing that Jailer Blue wanted to get into this," Thomas said. "It can offer some training and a line of work that doesn't seem to be overly populated right now and give some of these guys a chance to get out and earn a good wage and make a living. If we can help one out of 50 stay out of jail, it's a great thing. If all we help is one out of 50, it's been well worth the effort."